About This Web Site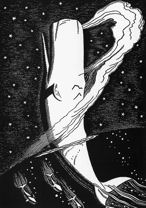 History
How to Read Moby Dick originated in 1997 because of a great respect for the novel. I had first skimmed it in the seventh grade, and read it in the tenth grade and again in the eleventh. Since then, I return for a reread every two or three years. Each time, I answer some questions, but more challenges arise with each reading. Admittedly, I was and continue to be obsessed.
By the time the WWW arrived, followed by Netscape's web site editor and my first computer in 1996, I had read
Moby Dick
at least 14 times in its entirety and was trying to get others to take the journey. However, only a handful of readers continued past Chapter 32, and half of those quit by Chapter 50. Obviously, first time readers needed some help.
The first Moby web site opened on July 4, 1997, hosted at www.addr.com/pthompson. In 2000, it was named a "YaHoo! Favorite," through which many people found it. The number of hits and the emails surprised me. I had not imagined that so many Ishmaels roamed the world, and the discovery ended my sense of isolated singularity.
Moby lives!
became my mantra. By 2008, a redesign of the web site was overdue, so I put it under its own domain name,
ReadMoby.com
, and have been working to upgrade it since.
I thank you for your support through the years. Some of you have monitored this site since its Beginning. I hope that you continue to find it useful.
Patricia R. Thompson, M.A.
Contact
Patricia if you would like occasional notification of updates to the web site or if you have suggestions for improvement of the web site.
---

Current Web Site Project
An interactive map based on the voyage map on the home page nears completion. It marks the ship's location along the route with popups showing chapter numbers and chapter synopses. The intent is to show the relationship between Ahab's monomania with his proximity to the equator; however, the map is open to other applications.
---

About the Web Site Founder
Patricia Thompson is sole proprietor of
TBM Data Enterprises
, a web site design and management company. She is also a teacher, having taught all ability levels in public education, academic grades seven through fourteen and adults of all ages in private settings. She specializes in the development of both academic and professional reading and writing skills. Other activities include creative writing, historical reseach, and digital archiving.
Patricia's historical novel,
Damn Good Money
, is now available as a print book and an eBook on
Amazon
. The novel is set in East Texas and Houston, 1870-1933. Daniel Zachary, a first generation rural immigrant with a single-minded, pragmatic focus, hustles for financial success as a Houston capitalist.
My original vision of producing the novel in an interactive digital format with photographs, videos, maps, and music of the period has not materialized. Copyright issues now seem insurmountable, but perhaps with more time they can be conquered. I have not given up on the digital format, but I am pleased with the traditional print and eBook formats now available.
---
Privacy Policy
We at ReadMoby.com respect your privacy as we want others to respect ours. We retain email addresses only for the purpose requested by the sender. If you email us requesting web site update notification, we will use your email address only for that purpose. If you email us requesting information or sharing information, we use your address only to respond to you on that matter. We do not collect email to sell or share with others, and we do not send unsolicited email. If you want us to delete your address from our email folder, please
email
us. Your address will be deleted immediately.